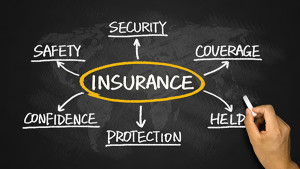 We have seen this time and time again.  A business owner needs just liability insurance to satisfy their landlord or property management company.  To save money they turn down any Property, Employers Liability, Workers Compensation  and a host of other Coverage's just to safe some money. 
Business owners would be much better off if they had the right Coverage's to protect their business and their employees.  I hate to tell you what would happen if an employee was injured on the job and the business owner does not have Workers Compensation Insurance.  It would end up costing the owner thousands of dollars in penalties and additional costs for the injured employee healthcare would also be in the thousands.   What we have also seen recently is when the building is damaged by fire or water and a business owner renting the location experiences property damage to their equipment or personal property, it is not covered because they only had Liability and no Property Coverage.
Most business owners who own their building also refuse to purchase Earthquake Coverage on their building.  Just imagine what would happen if an Earthquake damaged your business overnight tonight.  The costs to rebuild or repair after an Earthquake most likely would not be covered under a Business Owners Policy without Earthquake Coverage. 
Sure, it may cost the business owner a few more dollars, but not having the right coverage's could cost thousands.  It is not worth it.